Drum Flaker Manufacturer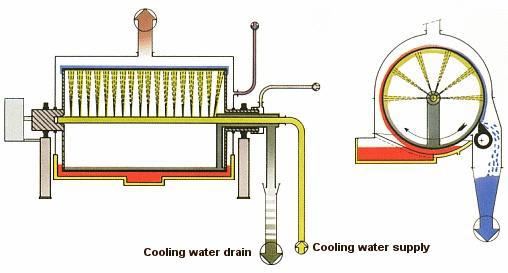 Drum Flaker are used for solidifying molten material. After processing on flakers, the material forms films or easily handled flakes and is further processed or packed into containers for transport. A great advantage of flakers is that they offer a continuous process. The hot material is applied to the cooling drum by direct immersion into a trough, or indirect immersion using doctor/applicator rolls. The molten liquid is cooled on the cooling drum and after a partial revolution; the cooled and solidified product is removed by a scraper in the form of flakes or film.
Special Features :
Designed for trouble free operation

•

Low Cost operation

•

Continuous Process

•

High thermal efficiency

•

Minimum thermal degradation

•

Accomplishment of flaking in a single step

•

Uniformly flaked product
We manufacture, design and develop optimum quality rotary drum flakers. Our range of drum flakers is available in single drum flakers, double drum flakers.
Material of Construction (MOC) Offered :- CS (IS 2062 Gr A/B, SA 516 Gr 60/70, BQ), SS 316, SS 304, SS 316 L, SS 304 L. SS 310, MONEL, INCONEL, TITANIUM, HASTALLOY, PP/FRP ETC.
The purpose of flaking is to cool and solidify fusion liquid. The solidified product is shaped thin flake. The flake is capable of conveyance, safekeeping, transportation, and discharging.
Fusion liquid Flake Handling
There is a possibility that the product hardens in the pipe.
○It's possible to carry that by an ordinary conveyor. Safe Keeping×The fusion liquid is easy to oxidize.
Because it's a solid,it's difficult to deteriorate compared with liquid.Transportation×Fusion liquid hardens by heat-radiation. Re-heating. It's possible to put the flake in a flexible container bag.Discharging×Heat-resistance is requested ofthe filling machine.○Because a handling is easy to do, the flake is easy to discharge.
about Drum Flaker
The Dip feed type can't dispose of high viscosity liquid. When viscosity liquid is inserted between the drum and the roll, the high viscosity liquid is stuck in drum. An adjustment in a clearance of the drum and the roll takes time and effort.There are 2 ways of supplying system of melting liquid. We recommend easy "Dip feed" of operation control.It's possible to put the roll for "Top feed" as an option for high viscosity liquid.Dip feed typeTop feed type Leveling Roll Melting liquid is poured into the pan.This is standard way and operation control is easy compared with the Top feed type. You can put a liquid level sensor on the pan and adjust the provision.Melting liquid Leveling Roll Melting liquid3-2、Supply system of melting liquid
Cooling water is supplied inside the drum.Melting liquid is stuck in the surface of the drum,is cooled and solidify. The production thing
isSolidified is scratched with a scraper and it is taken
Various designs for different operating principles
In view of the large variety of products in the chemical and food industries, it will come as no surprise that also supplies an extremely varied range of machines. This variation is not only in design and operating principle, but also in materials used. PRODUCTS WITH POOR SOLIDIFYING PROPERTIES There are products that do not match the operating principles described on this page, such as products with neither good nor poor adhesion properties, but with poor solidifying properties instead. For those situations, . The surface can also be furnished with special
(dovetail-sectioned) grooves for products with poor adhesion properties.THE DRUMS MATERIAL The drums are mostly made of stainless steel. Besides the choice of many types of stainless steel, chromium-plated, Hastelloy, or cast iron drums are also possible. The exact choice will depend on your product, the work site environment, available space, and the process to be performed. The result is a durable drum with high dimensional stability and uniform heat distribution over its entire surface.
DIP FEED products with low viscosity and good adhesion properties. The rotating drum dips directly into the melt contained in a heated pan under the drum. A film of product solidifies immediately on the drum surface during its contact with the melt. In addition, a thin layer of liquid adheres to the solid layer, passes out of the pan and solidifies during completion of the drum revolution. Among the products processed on this type of drum flaker are phtalic anhydride, caprolactam, fatty acids, bisphenol, naphthalene and DMT.
BOTTOM DIP ROLL A heated applicator roll is located under the drum and dips into the melt. The film of liquid melt that sticks to the applicator roll is transferred to the cooling drum and solidifies. For products with good adhesion to metal surfaces and low to moderate viscosities, flake thickness may be controlled between certain limits. Applications are flaking of va
OVERHEAD APPLICATOR ROLLS For accurate control of end product thickness and shape, an internally heated applicator roll is located above the cooling drum. The melt is fed into the nip between the applicator roll and the drum. Contact with the heated roll ensures that the product remains liquid in the feeding system. Heated endplates prevent leakage of the melt to the sides both during applicator roll gap setting and thermal expansion. A film of melt passes through the gap between the roll and the drum, sticks to the cold drum, and solidifies. For products showing poor adhesion to metals and moderate to high viscosities, flake thickness may be controlled accurately through the gap setting mechanism of the applicator roll. Applications can be found for example in processing of soaps, stearates, and fatty acids
Fine chemicals applications Fine chemicals are complex, single, pure chemical substances, produced in limited quantities in multipurpose plants in multi step batch chemical or biotechnological processes.
The main demands set by the chemical industry to suppliers of equipment are a high safety standard, maximum plant operating time, the economic use of energy, and competence in problem solving. drum flaker can be used for solidification and flaking of various fine chemicals. For industrial implementation, some product properties must be investigated under real process conditions. This can be arranged in our pilot plant.
APPLICATIONS• Fatty acids• Oleochemicals• Phtalic anhydride• Polyethylene glycols (PEG)• Maleic anhydride• Calcium chloride• Caprolactam• Resins• Bisphenol A• Sulphurs
Our other product: Drum flaker Manufacturer in India,  Chemical plant and machinery