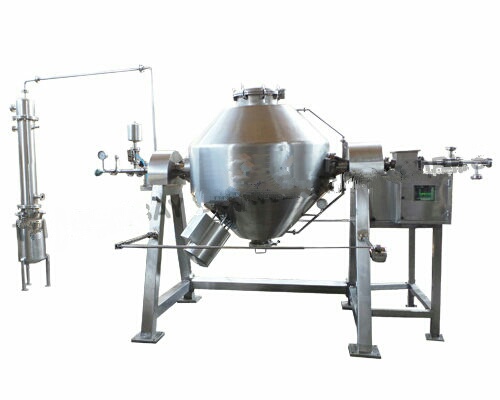 Roto Cone Vacuum Dryer is suitable for drying the material which can not operate at low Temperature easily oxidized, poisonous in nature. It operates at low Temperature efficiently under vacuum. It is very economical by total solvent recovery.
The roto cone vacuum dryer is equipment used in drying of products that are damaged by high temperatures and materials having special characteristics such as easily oxidized, strong irritants, poisonous dust and volatile compounds. The machine is also designed to release a product that is completely powdered and lump free.
Operational Mechanism
In operation, the rotocone vacuum dryer dries product through creation of a vacuum. This decreases the pressure around the product to below the vapor pressure of water and creates the effect of reducing product water boiling point which then evaporates and there is enhanced rate of drying of the product. The process is also done under low relative humidity for better drying.
Equipment Features
To enhance the rate of drying, the rotocone vacuum dryer manufacturers may add lump breakers onto the cone for breaking the large clumps of material inside the rotating cone, increasing the drying surface area and achieves more efficient drying.
Double Cone Vacuum Dryer
The double cone vacuum dryer also utilizes the vacuum drying technology with greater drying efficiency. Wet product goes through an indirect heating process and agitation with tumbling action, all while inside a vacuum to achieve rapid drying. In this process, recovery of solvent is also possible through condensation processes.
With constant innovation, the RVCD manufacturer has been able to deliver highly precise models that achieve thorough drying of product, uniformity of products, reduced drying time and an easy to clean and maintain machine. The roto cone vacuum dryer is mainly used in chemicals processing and pharmaceutical industries where air contamination can easily occur with other types of dryers.
Capacity
Standard models range from 50, 100, 325, 500, 750, 1000, 1500, 2000, 3000, 5000 Ltrs Rotocone Vacuum Dryer , Rotocone Vacuum Dryer Manufacturer, RCVD manufacturer, Double Cone Vacuum Dryer Manufacturer.
Our machines are simple and effective method of drying wet cakes and sometimes slurries.
Specially Uniform material shuffling over the heated contact surface of the rotocone dryers
Drying time Reduces and eliminates need of re -drying of lumps.
N2 pulse jet dust filter provided for better operational efficiency of products.
discharge valve with Quick open able for direct packing of dry products into bags or drums.
Best Suitable to process crystalline or amorphous powders which prone for lumps.
cGMP construction with safety railing to avoid personnel injury.
Available from 100 Ltrs. to 5000 Ltrs. gross capacity.
Due to vacuum and agitation, it is possible to dry heat sensitive materials.
No degradation due to over exposure, more temperature and time.
rotocone vacuum dryer working principle,
Rotocone Vacuum Dryer (RCVD) also called Rota Cone Vacuum Dryer is suitable for drying of materials which cannot resist high temperature, Material which are easily oxidized, volatile materials which should be retrieved, materials strong irritant and poisonous in nature. Abster Equipment Roto-cone dryer with improved technology integrates during operation under vacuum. The roto cone dryer facilities, enhanced drying efficiency, low-temperature operation, and economy for the process of total solvent recovery. It helps cGMP-based working by achieving optimum dust control while offering advantages of efficient charging and discharging of materials. The drying unit equipped with lump breakers initially breaks large lumps and subsequently powders them (in a single cone). The rotary action of the dryer together with the mechanical action of the breaker cuts down drying time and gives a lump-free product.
Vacuum dryers offer many benefits including:
Unsurprising and Repeatable result.
Dehydrated Temperature responsive Products -since all fluid vaporize at a lower temperature at condensed pressures, it is probable to vaporizes the fluid at very low temperatures.
Concentrated Energy – because the vanishing of the fluid under vacuum occurs at a much diminish temperature; the temperature discrepancy is augmented with no raise the temperature.
Protected for Friable goods – The low speed at which falls down dryer function, immediately a few revolutions per minute, makes Rotocone Vacuum Dryers (RCVD) perfect for subtle and friable solids such as agglomerated solids, macromolecules, or crystals.
More absolute release – different agitated dryers, Rotocone Vacuum Dryers (RCVD) have an extremely modest exterior area and no protester to trap product. The easy unhindered 45-degree cone allows all goods to liberally release.
Low Cross blemish – since there is only one stirring part, the tumble dryer is an intrinsically easy and clean intend, which improves surrender and abridged cross blemish.
Without difficulty clean – The straightforward interior plan is perfect for maintenance with a solitary spray bar.
Effortlessly inspect internal – All surfaces of the Rotocone Vacuum Dryer (RCVD) can be inspected from one vantage direct – the loading emerges.
Avoid corrosion – The Rotocone Vacuum Dryer (RCVD) is perfect for avoiding corrosion of substance and with the adding of a motionless gas washout, oxygen free surroundings can be maintained.
SALIENT FEATURES/MOC (GMP Model)
Inner shell/cone and contact parts in SS316
Heating (H.W./Stream) Jacket in SS304
Insulation with the jacket in SS304
Cyclone separator in SS304
Drive unit enclosed with SS Covers
FLP motor and electricals
Provision for nitrogen purging
Digital temperature indicator (FLP) at hot water inlet and outlet
Digital temperature indicator (FLP)
Temperature and vacuum gauges (Dial type on cone)
Safety guard with limit switch. Pulse-jet type dust filter is provided inside the cone
Butterfly valve at the discharge
Positioning wheel for cone
Drive: Gearbox and motor direct coupled and box to cone drive shaft chain drive/Hbull gear and pinion
Construction and finish as per cGMP standards
OPTIONALS:
Digital temperature controller (FLP) with a pneumatic valve at the hot water inlet.
Lump breakers on the cone with FLP motor and dry mechanical seals