The Benefits of Using a Homogenizer in the Oil Emulsification Process
The benefits of using a homogenizer to create emulsified products are two-fold:
It Reduces Particle Size
The high pressure and additional forces used by high pressure homogenizing systems drastically reduce product particle size. Sub-micro particles have more surface area per particle, which means each has more opportunity to interact with another. This not only makes it easier for mixing agents to do their job, it also creates a final product with identical (i.e., homogenous) properties, improving the texture, consistency and appearance of many consumables, (especially important for those in the food and cosmetic markets) and increasing the bioavailability of drugs for the pharmaceutical industry.
It Efficiently and Effectively Mixes Resistant Substances
The vigorous and multiple forces utilized by homogenizers make it harder for product particles to resist initial mixing and harder for them to separate afterwards. It also allows for large volume processing since homogenizers have greater capacities than traditional emulsifiers. The ability to create more stable products with longer shelf lives in shorter amounts of time with fewer passes saves time and money, valuable benefits for companies wanting to make the most of their resources.
Product Introduction
High-shear Dispersing Emulsifier narrows the particle size of liquid-liquid and liquid-solid materials through external mechanical force and distributes one phase materials into another phase or many other phases evenly to realize good homogenizing, dispersing and emulsifying result. As a result, the materials form a stable emulsion state.High-shear dispersing emulsifiers a batch type machine. The working head adopted new type of dual direction suction structure, and can have top, side and bottom installation position. The equipment can combined with different agitators like dispersing and mixing, which realizing one machine has multi-functions. The equipment can adopted to wide range viscosity and temperature, and it is fit for working condition 100mbar vacuum, ex-proof (ATEX), and highest pressure 10bar .
| | |
| --- | --- |
| 【Materials Viscosity】: | ≤10000 cps |
| 【Production Capacity】: | ≤10m³/batch |
| 【Application Industry】: | Suitable for dispersing, emulsifying and homogenizing materials in industries such as biology, pharmacy, food, ink, textile auxiliary, cosmetic lubricating oil and fertilizer etc.. (For more application industry, please click "Free Consultation") |
| 【Applicable Materials】: | Applicable for solution, gel, suspension or emulsion of solid – liquid, liquid- liquid materials such as juice, soup bases, milk production, tissue homogenate, cosmetics, surfactants, asphalt, emulsifier, oil field chemicals etc. |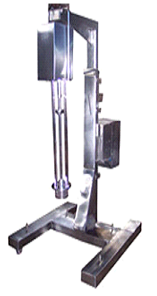 Product Advantages
High efficiency, high product quality
With linear velocity of more than 20m/s, it can distribute one phase materials into another phase or many other phase evenly in a short period to obtain fine homogenizing, dispersing emulsifying result. Its finished products are with stable quality and not easy to be laminated.
High precision processing and long service life
The stator and rotor are forging materials processed in CNC machining center. And the small clearance between the stator and rotor to ensure excellent shearing result, higher emulsifying and dispersing efficiency.  Also the stator and rotor can be coated with nano materials which can extend their service life.
Various installation ways
With compact structure, the machine can be fixed type (Mounted on Kettle) and Lifting type( Pneumatic Lifting, Hydraulic Lifting). Installation positions(top, side and bottom) are chosen based on different working conditions.
Customized options
Different options are available such as explosion-proof type, closed type, multi-tanks type, with lifting cover type, mounted on kettle type, etc.. Material can be customized to be SS304 \SS321 \SS316L .
Working Principle
It is mainly consisted of rotor and stator. Under the centrifugal force and hydraulic force generated by the high-speed rotor, the stator will put materials under comprehensive action such as strong shearing, centrifugal extrusion, crashing, hydraulic friction etc.. As the result, the solid phase, liquid phase and gas phase which is insoluble at beginning will prompt evenly dispersed and emulsified with various additives. After high-frequency circulation, stable materials with high quality are obtained in a short time.