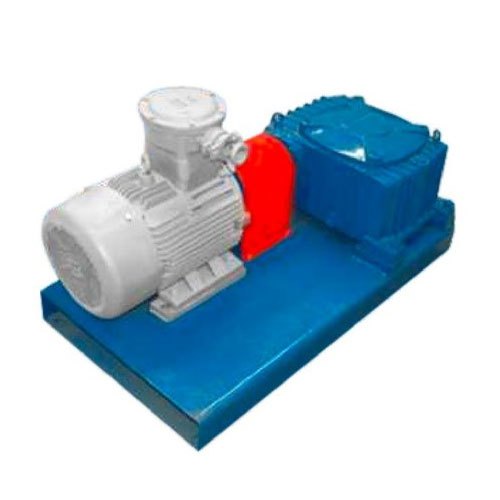 Mud Agitator
A mud agitator is one of the most commonly-used solid control equipment. It is used to continuously mix the drilling liquid with impeller evenly and make the cuts suspend in the drilling liquid. Our drilling mud agitator adopts SEW reducer with German technology. It has the features of being effective, compact, powerful, and easy to maintain.
Mud Agitator
Mud agitator can be classified to horizontal and vertical mud agitator. All mud agitators feature a brand motor coupled to a mud agitatorrugged oilfield gearbox, which eliminates misalignment and troublesome couplings. This configuration promotes longer motor and gearbox bearing life. This highly efficient gearbox offers a 95% power transfer, which is approximately 30% more than a worm drive gearbox.
Drilling Mud Mixers
A Mud Agitator is used in surface mud systems to suspend solids and maintain homogeneous mixture throughout the system. A mechanical agitator is driven by an explosion-proof motor, coupled to a gear box that drives the impeller shaft. The impellers (turbines) transform mechanical power into fluid circulation or agitation of drilling fluid mud agitator. The objective is to obtain a uniform suspension of all solids.
Types of Agitator Mounting
---
Horizontally mounted agitator
Vertically mounted agitator
Types of Agitator Mounting
---
Mechanical seal
Packing seal
Types of Agitator Impellers

---
Radial Flow Impeller.
Axial Flow Impellers
Types of Impeller Blades

---
Flat blade impeller
Canted blade impeller
Contour blade impeller
Descriptions of Mud Agitator
1. Mud agitator is an equipment to mix solid and fluid, mainly used in oil and gas drilling mud process, mineral working site, etc. mud system.
2. This type agitator holding simple structure, large bearing strength, low noise, more durable. It prevent solid sediment and maintain drilling fluid property. Features 1.Typical C face motor installation 2.Small footprint without skid
3.Helical-Bevel gearbox 4.Motor can be horizontal or vertical Benefits 1.Longer usable life on motor and gear box 2.Require less space also easy to handle 3.High efficiency, low noise, low operating temperature
4.Adaptable for different application
Mud Agitator, Drilling Solids Control,Mud Cleaning Agitator, mud agitator manufacturer Exporters, mud agitator manufacturer Suppliers, mud agitator manufacturer wholesalers, mud agitator manufacturer distributors, mud agitator manufacturer Manufacturers, mud agitator manufacturer sellers, mud agitator manufacturer
Specifications of Mud Agitator
Agitator
AMD5.5
AMD7.5
AMD11
AMD15
Input Horse Power
HP
7.5
10
15
20
Max. output Torque
lb.ft
539
747
1116
1537
Output Rotating Speed
rpm
60
60
60
60
Size of impeller
inch
28~47
28~47
28~47
28~47
Overall Dimension
mm
1035*500*612
1035*500*612
1240*600*683
1240*600*683
Weight
kg
618
651
847
887