PVA Emulsion Reactor manufacturer in Vapi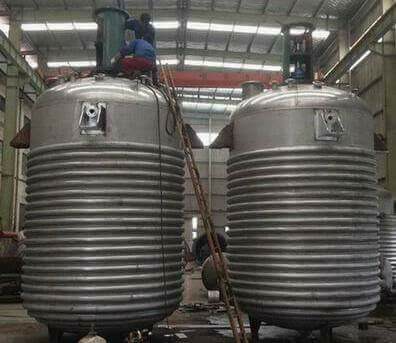 Abster Equipment manufacturer and Supplier of resin Plant and PVA emulsion Reactor Manufacturer in Vapi, PVA Emulsion Plant. Emulsion Resin Plant offered are used for getting end product Emulsion that comprises solvent free binders finding application in preparation of paints as well as coatings. Manufactured through polymerization process where monomers are dispersed in aqueous phase for getting uniform & stable emulsion, these paints as well as coatings which are based on emulsion systems deliver quality performance and are also environment friendly.
Emulsion is the Core element of any water based paint. All paints are combination of pigments emulsion and water. Along with three ingredients-several additives are used in small quantities. The Additives perform several key functions. The additives are generally wetting agents, helping in dispersion, anti settling agent, body agent, flow and leveling additives, driers, glass improvers and many others.
Features:
High performance and latest technology based Emulsion Resin Plants
Emulsions processed comprise solvent free binders that find usage in preparation of paints as well as coatings
Emulsions manufactured through polymerization process
Paints and coatings are superior in performance and environment friendly
Emulsions having excellent binding properties
Raw Materials:
Emulsifier
Monomer
Catalyst
Activators
Acids
Additives
PVA Emulsion Reactor SPECIFICATION
| | |
| --- | --- |
| Capacity | 50 L TO 20,000 LITER |
| Machinery in Plant | Chemical Reactor , Column , Condenser , Receiver & blender |
| Reactor Type | Both Dish End , Motor and Gear box , Inside Agitator for Mixing Material , Bottom discharge connection Vertical outer heating limpet and jacketed |
| Usage/Application | Reaction , Mixing or Blending Row Material |
| Mixing Material | Chemicals / Oils / Lubricant / Liquid Syrup / Sugar Syrup / Wax Melting /Engine Oil |
| Material of Construction | Stainless Steel ,Mild Storage |
| Orientation | Vertical Orientation |
| Shape | Round |
| Tank Diameter | As Per Your Requirement |
| Electric Heater | Single Phase or Three Phase |
| Temperature Controller | Automatic or PLC Operated |
| Mixing Speed (RPM) | Variable , Speed Up And Down As Per Requirement |
| Finishing Type | Matt Type ,Mirror Finishing |
| Heating and Cooling System | YES |
| Temperatures Range | 30 TO 250 Degree |
| Vacuum | Yes |
| Cooling Coil | Internal Coil |
| Outer | Heating coil or jacket |
| Plat Foam | Mild Steel |
Application Industry
Pharmaceutical industry
Chemical industry
Food and beverages industry
Petro-chemical industry
Resins industry
Polymers industry
Adhesives industry
Agricultural industry
General chemicals industry
Plastics industry
Rubber industry
Herbal Extractor