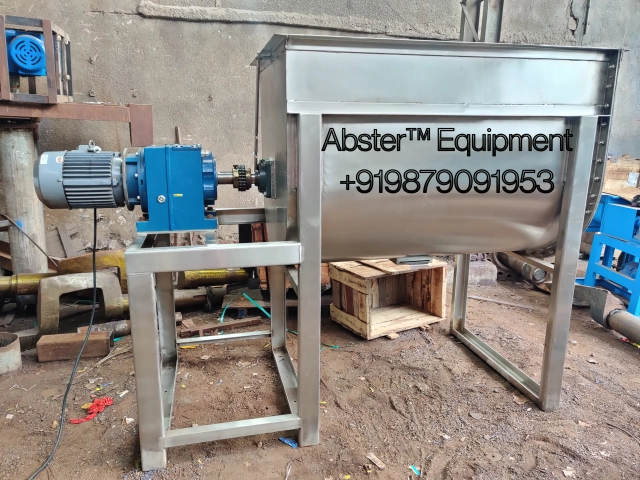 Ribbon blender manufacturer in Ahmadabad Leading Supplier in India. Our manufacturing an extensive range of Ribbon Blender, which is used for different industrial mixer purpose. These are available in various models like lab model to heavy-duty. These are best in dry powder mixing with the best result& at minimum budget. This mixer is designed in U shaped with 5 – 10,000 liters working capacity. We have covered whole Ahmedabad and the most part of India within a short spam time by offering customer's suitable product. We also deal with international clients with all possible customized solutions.
Our offered Blender is specially fabricated with different grade of steel like stainless steel, carbon steel & alloy steels as per industrial need. Our product is environment friendly, which required very maintenance & electric energy. Our design is available for low, medium, large & mega volume capacity to mix small to large size material. Very sharp blades are installed in this, which mixes different soft to hard material at less time.
Our organization is Gujarat based, but handling hundred of national & international clients as well. All models are strictly tested at various quality parameters so that it can be operated without any special training or practice. This product is widely used in different industries like pharmaceutical, plastic, engineering, food, chemical & many more. For different industrial sector, these are available in commercial duty, standard duty, heavy duty and extra heavy-duty construction.
Technical Specification of Ribbon Blender
Model
Working capacity
liters
Total
Capacity/ liters
OUTPUT
RPM
Total HP required
APPROX
RB – 200
200 ltrs
300 ltrs
40-65
2 to 3   HP
RB – 300
300 ltrs
400 ltrs
40-65
3 to 5  HP
RB – 500
500 ltrs
750 ltrs
30-45
5 to 7.5  HP
RB – 1000
1000 ltrs
1500 ltrs
30-40
7.5 to 10  HP
RB – 1500
1500 ltrs
2000 ltrs
30-45
10 to 20  HP
RB – 2000
2000 ltrs
2500 ltrs
30-45
15 to 30  HP
RB – 2500
2500 ltrs
3000 ltrs
30-45
20 to 30 HP
RB – 3000
3000 ltrs
3500 ltrs
25-30
20 to 30 HP
RB – 4000
4000 LTR
5000 LTR
25-30
20 to 30 hp
RB – 5000
5000 LTR
6000 LTR
25-30
30 TO 40 HP
RB – 10000
10000 LTR
12500 LTR
20-30
40 TO 50 HP
Mild mixing which will not break the physical size of material
More loading factor:ribbon blender's working volume is between 40%-70% of the total nominal volume, but generally speaking, 60% is maximum loading ratio of ribbon blender when mix heavy bulk density material
Easy Cleaning: usually, the opening at blender's top cover is very large to touch into the inner surface for cleaning purpose.
Easy Maintenance: the structure of blender is very simple, easy to dismantle and maintenance
Standard Features of  powder Blender
Capacity range from 100-30000L
Mild Steel/Stainless Steel construction
Flange connection ribbon shaft or Thru ribbon shaft
Normal Temperature and Pressure inside ribbon blender
Gland Packing Seal + Air Purge Seal
Pneumatic Operated Outlet Valve
Special Features of Ribbon Blender
Abster™ Equipment has been a ribbon blender manufacture since 1991, decades years' experience and constant improving technology makes ribbon blender stand out with below special features.
Vacuum/Pressure inside ribbon blender
Dimple Jacket Ribbon Blender
Heating/Cooling Jacket for ribbon blender
Spraying Nozzle for liquid
Heavy-duty drive unit
Various Outlet Valve depend on customer's process requirement
Explosion-proof for electricity
Electrical Control Panel system
GMP manufacturing
Teflon Coating for material contact part
Other Special Customize Design
Ribbon Mixer Blender
Principle of Ribbon Mixer Blender
Ribbon blenders operate on combined convection and diffusion mechanisms. Convective mixing is the macro movement of large portions of the solids. Convection mixing occurs when the solids are turned over along the horizontal axis of the agitator assembly. The diffusion mixing involves the micromixing that occurs when individual particles are moved relative to the surrounding particles. In the ribbon, blender diffusion occurs when the particles in front of the ribbon are moved in one direction while nearby particles are not moved or lag behind. Together, these two types of action result in the mixing and blending of solids.
Construction of Ribbon Mixer Blender
A ribbon blender consists of a U-shaped horizontal trough containing a double helical ribbon agitator that rotates within, Fig. 8.3. The agitator's shaft is positioned in the centre of the trough and has welded spokes on which the helical ribbons (also known as spirals) are welded. Since the ribbon agitator consists of a set of inner and outer helical ribbons, it is referred to as a "double" helical ribbon agitator. The gap between the ribbon's outer edge and the internal wall of the container ranges from 3 to 6 mm depending on the application. The internal and external ribbon spirals are pitched to move material axially, in opposing directions as well as radially. This combination promotes fast and thorough blending. The agitator shaft is located within the blender container. A spray pipe for adding liquids is mounted above the ribbons. For materials that tend to form agglomerates during mixing, high-speed choppers can be provided for the disintegration of the agglomerates.
The ribbon blender is powered by a drive system comprised of a motor, gearbox, and couplings. These blenders are generally powered by a 10 – 15 HP motor for 1000 kg of product mass to be blended. The power requirement may range from 3 – 12 kW/m3 depending on the products to be blended. Top speeds are in the range of 300 feet/min are typical. The agitator shaft exits the blender container at either end, through the end plates bolted or welded to the container. The area where the shaft exits the container is provided with a sealing arrangement to ensure that material does not travel from the container to the outside and vice-versa. The blender assembly along with the drive system components viz. motor, gearbox, couplings, and bearing supports is mounted on a supporting frame.