Screw Mixer, Vertical Ribbon Mixer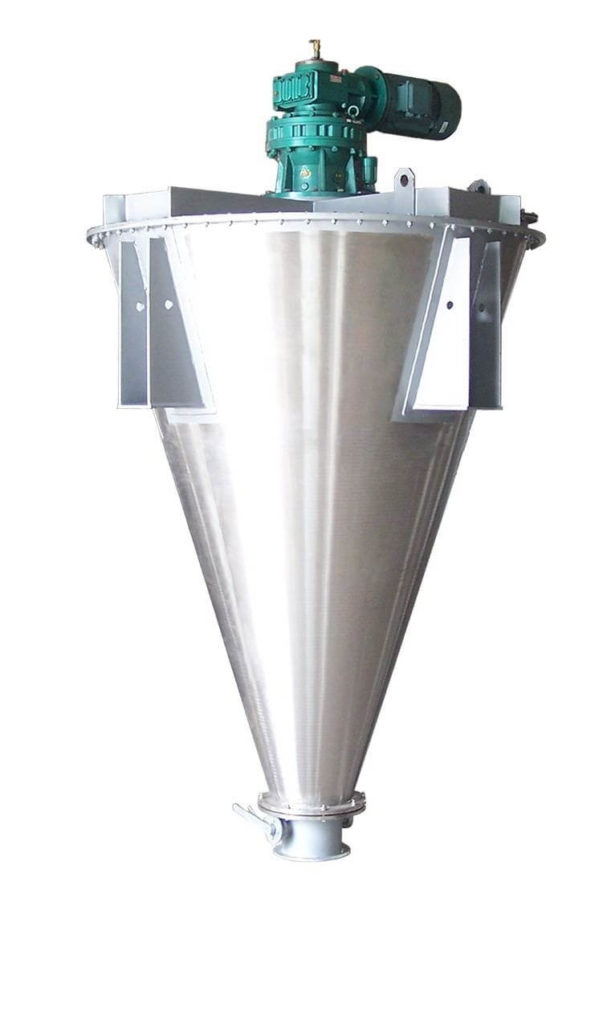 We offer best powder mixer including Screw Mixer , Vertical Ribbon Mixer , Nauta Mixer For Dry Powder , Conical Ribbon Mixer with many assembly in mixer like transmission device, outer ribbon mixer, taper cylinder , inner reverse screw mixer and discharge valve. Powder mixer machine / Conical Screw Blender new design for viscosity materials. The material circles and rises under the operation of the outer ribbon mixer, while the inner reverse screw presses down the material along the shaft, which finishes the mixing. With a long force arm and weak impact force,this equipment is suitable for the mixing and reaction of highly adhesive liquids with viscosity under 200, 000cp, such as paint, coating material and adhesive. It is particularly useful for the mixing of non-Newton fluids containing a lot of solid elements.
Volume: 100-5000L
Stainless Steel or Carbon Steel
Ribbon & Screw agitator for bottom discharge
Designed for normal temperature and normal atmospheric pressure
Feed Nozzle
Dust Nozzle
Manually operated or Pneumatic operated dislocated valve
Packing Seal
Safety limit switch on man hole
Optional Features:
Stainless Steel 304, Stainless Steel 316L
Internal pressure
Sanitary type construction
Dislocated valve, butterfly valve, slide gate valve, ball valve
Horsepower to suit higher density materials
Explosion-proof motors
Controls such as variable frequency drives, motor starters and operator stations are available
Spray nozzles for liquid introduction
Jacket for heating or cooling
Vertical Ribbon Mixer , Nauta Mixer For Dry Powder , Vertical ribbon mixer machine barrel two asymmetric spiral rotation of the material up to lift, slow arm swing movement; the spiral outside the material, varying degrees into the stud, so as to achieve the full range of materials continue to update the proliferation, The two pieces of material mentioned in the upper part are converged to the central pits to form a downward flow of material, complementing the bottom vacancy, resulting in a triple mixing effect of the convective circulation; the standard conical screw mixer has two agitators Helix, the actual application according to the size of the equipment can be used single (a long spiral), double (the length of each one or two asymmetric spiral), three (two short and one long symmetrical arrangement) root screw; theoretically, Mixing the effect of the better; equipment generally use plum-shaped "dislocation valve", the valve and the bottom of the long spiral fit closely to effectively reduce the mixed dead angle, the drive in the form of manual and pneumatic optional; according to user needs, can also be installed butterfly valve , side valve discharge and so on.
conical mixer with manually feeding
conical mixer, manually feeding device with dust collector
conical mixer with vacuum feeder
conical mixer with crane
conical mixer with screw conveyor
conical mixer with bucket elevator
simple production line with conical mixer, vacuum feeder, storage tank and auto-packing machine.
simple production line with conical mixer, manually feeding, screw conveyor to storage tank and auto-packing
ribbon mixer, ploughshear mixer, paddle mixer, conical mixer, continuous mixer, liquid mixer,all these mixers are custom-made according to different kinds of material
Ribbon blender machine with Powder Transfer systems , Working Plate form , Product collection BIN
Ribbon Blender with Vacuum powder transfer systems , Ribbon blender with working Plate form
Powder Blending plants in Pharmaceutical ,Protein Powder, food, Ribbon mixing plants in food, Ribbon mixers machine for medicines, horizontal mixers are widely used in chemical, medicine, food, and construction line.
food material ribbon type mixing equipment line, flour blending and mixing , spice powder blending machine, seasoning blender machine with production line etc. Blender Machine with driven of motor, ribbon agitator mix the material quickly & clean and maintenances.
General Introduction
Ribbon mixer machine best suitable for chemical, Agro, Cosmetic , pharmaceuticals, food, construction line. mix powder with powder, powder with liquid, and powder with granule etc.
Ribbon blender machine with manual feeding, crane big bag feeding, screw conveyor feeding, vacuum feeding, bucket elevator etc. Mixing machine: double ribbon blender, single shaft mixer, mixing machine etc with Filling machine: storage silo, screw conveyor, packing machine, big bag etc.
Ribbon blender machine with system as dry ingredient bulk production blending line below:
Ribbon blender machine with jumbo bag material and feeding the mixer
Ribbon blender machine with mufti-level platform, manual undo the bag, mixing and packing with a bulk bag packer.
simple mixer frame, feed the mixer manually with the help of a folk lift.
using manual feeding platform, after mixing, screw conveyor send the material to the storage silo, a packer under it.
load the material manually on the ground,use vacuum feed to transfer material into mixer, after mixing, pack with a bulk-bag packer.
multi-stage vacuum feeder, store it after mixing, then packing.
multi-level operation platform, elevator sending to material silo, mixing, storage, and then packing. Tower structure.
bulket elevator feeding, mixing, storage, and packing.
vacuum feeding, mixing, storage, packing.
Manual feeding, mixing, storage, packing
Powder Ploughshear Mixer, Ploughshear Mixer, Putty Mixing Machine For Dry Ingredient
Applications of Vertical Ribbon Mixer, Nauta Mixer For Dry Powder, Conical Ribbon Mixer for Fine Chemicals, Detergent, Pesticide, Colors
| | | |
| --- | --- | --- |
| Fine Chemicals | Fertilizer | Pesticide |
| Color Pigment/Dyestuff | Functional Compounds | Detergent |
| Battery Compounds | Catalyst Resin | Compounds |
| Stabilizer | Chemical Agents | Carbon Powder |
Powder of Vertical Ribbon Mixer, Nauta Mixer For Dry Powder, Conical Ribbon Mixer :
| | | | |
| --- | --- | --- | --- |
| Vitamin | Ice Cream | Flour | Milk/WheyPowder |
| Enzymes | Starch | Flavorings/Spices | Bakery |
| Protein | Juice powder | Coffee | |
Granules, Grains or Powder Containing Pieces Vertical Ribbon Mixer, Nauta Mixer For Dry Powder, Conical Ribbon Mixer
| | | | |
| --- | --- | --- | --- |
| Table Salt | Diet Foods | Grain | Convalescent Preparations |
| Tea Extracts | Fruit Drinks | Tobacco | |
Fragile Materials Vertical Ribbon Mixer, Nauta Mixer For Dry Powder, Conical Ribbon Mixer
| | | | |
| --- | --- | --- | --- |
| Muesli | Instant Soups | Tea Mixes | Frozen Vegetable |
| Vegetable | Frozen Fruit | | |
Viscous Products Vertical Ribbon Mixer, Nauta Mixer For Dry Powder, Conical Ribbon Mixer
| | | | |
| --- | --- | --- | --- |
| Fruit Pulps | Chocolate | Wafer Filling | Cheese Spread |
| Baby Food | Cream | | |
Pharmaceutical Vertical Ribbon Mixer, Nauta Mixer For Dry Powder, Conical Ribbon Mixer
| | | |
| --- | --- | --- |
| Basic Pharma Materials | Active Agents | Pharma Intermediates |
| Tablets | Capsules | Pellets |
| Granules | Particles/Crystals | Moist Product |
Cosmetic product Vertical Ribbon Mixer, Nauta Mixer For Dry Powder, Conical Ribbon Mixer
| | | |
| --- | --- | --- |
| Titanium Dioxide | Talc Powder | Mica Flour |
| Kaolin Clay | Surface Active Agent | Disperse Agent |
| Coloring Powder | Mask Powder | |
Applications of Life science and Healthcare product Vertical Ribbon Mixer, Nauta Mixer For Dry Powder, Conical Ribbon Mixer
| | | |
| --- | --- | --- |
| Infant Formula | Bacterial Cultures | Nutritional Supplements |
| Sports Nutrition | Aroma | Vitamin Compounds |
| Active Agent Mixes | Lecithin Powder | Mineral Substances |
Applications Chemicals / Agro / Fertilizeer / Detergent for Vertical Ribbon Mixer, Nauta Mixer For Dry Powder, Conical Ribbon Mixer
| | | |
| --- | --- | --- |
| Fine Chemicals | Fertilizer | Pesticide |
| Color Pigment/Dyestuff | Functional Compounds | Detergent |
| Battery Compounds | Catalyst Resin | Compounds |
| Stabilizer | Chemical Agents | Carbon Powder |