This Tilting type Steam Food Kettle made of 3 layer stainless steel. The volume of the pot is 13gallon, with large heating area. Heat conducted by conducting oil in the inter layer. You need to inject conducting oil before use it.
【Made of 304 Stainless Steel】The pot body is Made of 304 stainless steel featuring high thermal efficiency, uniform heating, easy to clean. Apply one-step forming technology to make sure the pot is durable. Through perfect polishing, the both inside and outside of the pan is smooth.
【Tiltable Body for Discharging】The kettle can rotate 180°. You can tilt the body of the sandwich pot by turning the hand wheel and discharge the material.
【With mixer for even heating】With a mixer and the stirring heads sticks against the pot to make sure the material in the kettle is heated evenly. Apply powerful mixing motor, working stable and with low noise.
Application : The machine is widely used in food processing, such as: candy, cakes, beverages, preserves, canned food etc, also can be used in large restaurants or canteens to make soups, porridge etc.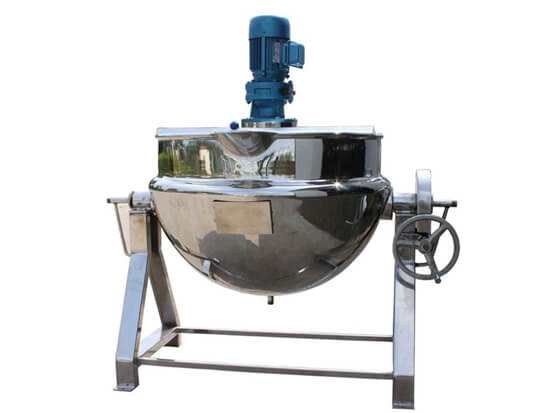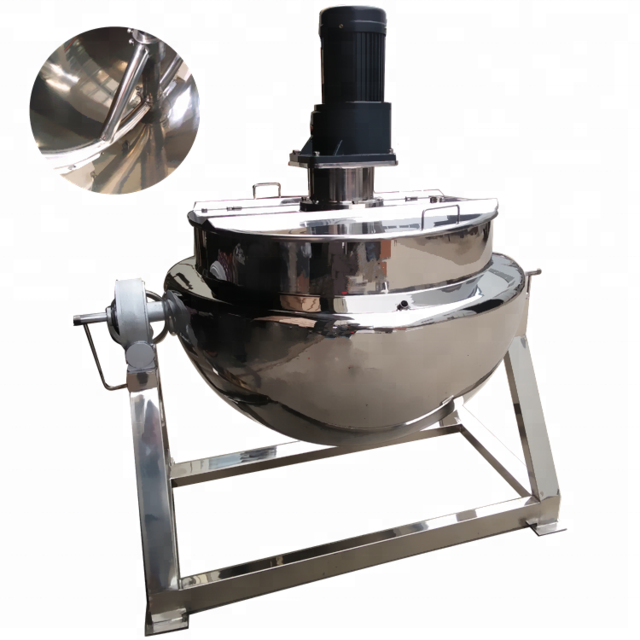 Tilting type Steam Food Kettle
Stainless Steel Steam Jam Industrial Cooking Mixer Jacketed Kettle With Agitator
Introduction of the Tilting type Steam Food Kettle
1.Be widely applied in food processing such as candy, medicine, dairy, alcohol, cake, sweetmeat, beverage, can, etc.
2.Tilting type Steam Food Kettle Can be used to boil soup, cook, stew and porridge in some large restaurants and canteens. It is considered to be the ideal equipment in the area of improving quality, shortening the time and proving working conditions
3.Full burning, smokeless,dust-free, little carbon, and no environmental pollution.
4.Flame temperature can be regulated optionally, highest temperature 300 °C or so.
5.Reasonable structure and convenient operation.
6.Energy saving, fierce fire, thermal efficiency is increased by 25% or so compared with similar products.
Tilting type Steam Food Kettle Specification
| | | | | | | |
| --- | --- | --- | --- | --- | --- | --- |
| Model | Volume | Dia. | Thickness of the pot | Mixing Mode | Turning Mode | Heating Mode |
| JK-50 | 50L | 500mm | 6mm | Scarping Bottom | Automatic/Hydraulic Pressure | SteamGasElectromagnet |
| JK-100 | 100L | 700mm | 6mm | Scarping Bottom | Automatic/Hydraulic Pressure | SteamGasElectromagnet |
| JK-200 | 200L | 800mm | 6mm | Scarping Bottom | Automatic/Hydraulic Pressure | SteamGasElectromagnet |
| JK-300 | 300L | 900mm | 7mm | Scarping Bottom | Automatic/Hydraulic Pressure | SteamGasElectromagnet |
| JK-400 | 400L | 1000mm | 7mm | Scarping Bottom | Automatic/Hydraulic Pressure | SteamGasElectromagnet |
| JK-500 | 500L | 1100mm | 7mm | Scarping Bottom | Automatic/Hydraulic Pressure | SteamGasElectromagnet |