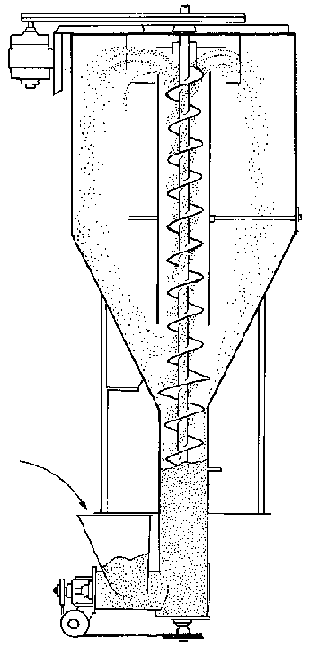 Vertical Auger Mixer
Abster's heavy duty vertical auger mixers are designed to handle large volumes of material quickly and efficiently. Our systems, ranging from 50cf – 1000cf capacity, produce a homogenous blend of pellets, flakes, granules or crumbs for more accurate and efficient down-stream processing. This is accomplished by using a large industrial auger to pull material from the bottom and dispersing evenly over the top multiple times. Mixer filling can be accomplished through top loading using cyclones, vacuum loaders and screw conveyors or at the base using dumpers and dumper fill chutes.
High Capacity Vertical Auger Mixers
Standard Features:
Heavy duty steel construction
50cf – 1000cf usable capacity
30" – 120" diameter
Lifting lugs for easy positioning
Bolt on lid w/ loader mounting pattern
High level switch
Sheave and multi-belt drive, safety guarding w/ inspection window
Top auger bearing w/ remote lube block for easy maintenance
Industrial solid core auger
Lube free composite lower auger bushing
Side access / inspection door w/ safety interlock
High efficiency TEFC motor
control panel
On / Off selector
e-stop
programmable digital timer
60 degree hopper slope
20" discharge height
Rack & pinion slide gate
Gravity, vacuum or screw conveyor discharge
Industrial epoxy paint exterior
Vertical Auger Mixer Options:
Full cell automation & integration
UL certified controls
Stainless construction
Quick clean package
Dumper fill chute
OSHA compliant ladders and work platforms
Extended legs for gravity discharge
Vacuum take-off boxes and probes
VFD soft start
Lower bearing assembly for abrasive materials or high cycle operations
Vertical Auger Mixer Diagram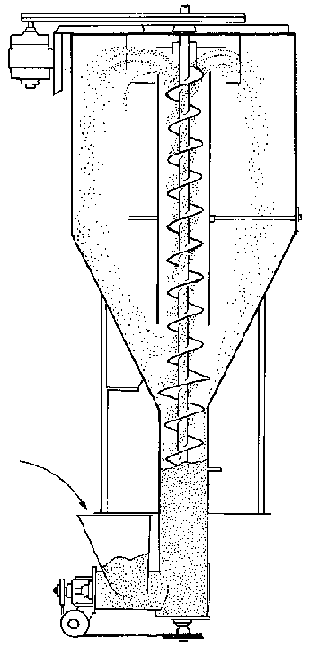 Vertical Powder Mixer : top-loading bulk material mixing systems are specially constructed for high-volume batch mixing applications where the mixing process must completely cycle in just minutes. A vertical solid-core auger pre-mixes material as it is drawn up and out of the center mixing tube. Top-mount, broad-throw dispersion paddles ensure a homogeneous mix. For processing operations handling up to 10000lbs, mixers supply dry bulk material mixes that are thoroughly and repeatedly prepared for downstream processing.
Our outher mixing equipment are: Ribbon Blender, Double cone blender, powder transfer screw conveyor