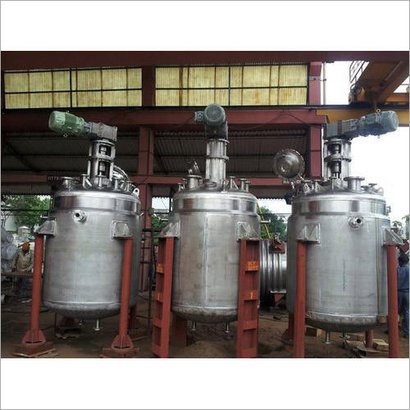 Agitated Reaction Vessel:
Widely recognized an one of the reputed manufacturer, supplier and exporter of premium quality array of Autoclave Unit, Rubber Reclaim Autoclave, Rotary Autoclave Unit, Rotary Autoclave Unit For Rubber Reclamation, Horizontal High Pressure Autoclave, High Pressure Autoclave, Rubber Vulcanizing Autoclave, Rotary Autoclave, Hydraulic Power Pack, M.S. Reactors, High Pressure Reactors, Chemical Reactors, Jacketed Reactors, Process Reactors, S.S. Reactors, Chemical Process Reactors, Limpet Reactors, Mild Steel Reactors, Limpet Coil Reactor, Limpet Coil Vessel, Industrial Reactors, Pressure Vessels, SS Pressure Vessels, Mobile Pressure Vessels, Receiver Vessels, Chemical Pressure Vessels, Reaction Vessels, Mixing Vessels, Process Vessels, Cylindrical Vessels, High Pressure Vessels, Low Pressure Vessels, Heavy Duty Pressure Vessels, Reactor Vessel, Vertical Autoclave, Rubber Vulcanizers, Ribbon Blender, Limpeted Reactor, Limpet Coil Vessels, Cryogenic Pressure Vessels, Agitated Reaction Vessels, Jacketed Vessels, MS Pressure Vessels, Reactor Vessels, MS Vessels, Storage Vessels, SS Pressure Vessels, Stainless Steel Reaction Vessels, Steel Vessels, Stainless Steel Pressure Vessels, Liquid Stirring Vessels, Chemical Receiver Vessels, Chemical Vessels, MS Storage Tank, SS Storage Tank, Chemical Storage Tank, Solvent Storage Tank, Chemical Tank, Storage Silo Tank, Low Pressure Storage Tank, Cylindrical Tank, Stainless Steel Storage Tank, Ammonia Receiver Tank, Air Receiver Tank, MS Chemical Tank, Pump Tank, Reaction Tank, Chemical Liquid Tank, Gas Tank, Low Pressure Storage Tank, Ammonia Tank, Cooling Tank, Vacuum Tanks, Pressure Tank, Water Pressure Tank, Stainless Steel Liquid Mixing Tank, Process Tank, High Pressure Receiver Tank, Condensate Tank, High Pressure Tank High Pressure Air Tank, Industrial Air Tank, Air Tank, Air Tanks. To ensure that our offered products are in-line with established quality standards of the industry, we manufacture these by making use of the high grade raw material, sourced from the trusted vendors. After the completion of the manufacturing process, we check these products by using latest technology so as to ensure their longer service life, less maintenance rust & wear resistance, precise design, fine finish, seamless shine and trouble free performance.
Along with this, we are engaged in rendering Fabrication Service. We render Structure Fabrication Service, Induction Furnace Reconditioning Service, M.S. & S.S. Fabrication Service and Induction Coil Reconditioning Service. Offered fabrication services are known for their flexibility, cost-effectiveness and timely execution
Features
Reactor of respective size with Mechanical seal, suitable agitator, Motor, Gear Box, Bottom valve & Cladded insulation.
Main Condenser & Vent condenser with distillate cooler & vapour column from reactor.
Liquid reactant addition vessel of suitable size.
Two distillate receivers of suitable size.
Distillate & reflux lines within skid.
Vacuum manifold & vacuum lines within skid.
All valves within skid for process, vacuum & utility lines.
VFD with Local flameproof panel for speed variation.
Reactor base lowering system with hydraulic or manual option.
Instrumentation Provided
Temperature scanner for the temperatures of Vapor, Utility Inlet & Outlet.
Temperature Control loop with control valve on utility side & profile temperature controller in flameproof construction.
Pressure control loop with Pressure transmitter & Pressure controller in flameproof construction.
Compound gauges on reactor, receivers, vacuum manifold.
VFD with local flameproof panel to operate remotely.
SCADA system to monitor & record the data
Product Range
Reactor Capacity – 10 L to 500 L.
Temperature -90 to + 300 Deg. C.
Design Pressure Full vacuum to 10 kg/cm2.
MOC – SS-304, SS-316, Or any other user specific requirement.
Operating RPM of Agitator 0 -300 RPM.
Aagitator can be easily changed with atleast 9-10 types of agitators.
*Chemical Pilot Reactor
This equipment is including: Reaction vessel, mixing system, vacuum system, condenser, separator, conduction oil preheating system, platform
1.Capacity 5L-200L.
2.Including jacketed reactor,condenser,storage tank,conduction oil preheating tank,hot oil pump,pipelines,valves,temperature gauge PT100,pressure gauge,platform etc.
3.Made of SUS316L and SUS304.
4.Heating and cooling by jacket or heated by jacket and cooling by inner pipe coil
Technical Parameter
            Model

Parameter

Reactor Volume(L)
Mixing speed (rpm)
Heat exchange surface (m2)
Separator(L)
Total power(including heating power)(KW)
PP-10
10
0-84
0.5
5
6.37
PP-30
30
0.5
12
12.37
PP-50
50
1
15
18.55
PP-100
100
2
25
19.65
PP-150
150
2.5
30
26.2
PP-200
200
3
50
33.5
Note: In case of inconformity of the data in the table due to technical improvement or customization, the real object shall prevail.
This equipment is including: Reaction vessel, mixing system, vacuum system, condenser, separator, conduction oil preheating system, platform.1.  Heating and cooling method: 1. Heating and cooling by jacket. 2. Heating by jacket and cooling by inner pipe coil.
2.  Type of electrical device: 1. Ex-proof type. 2. Normal type
3.   Electric cabinet control mode: 1. Touch-screen control. 2. Button control

*Model selection reference of reaction kettle

| | |
| --- | --- |
| Composition | Instructions |
| Specification (L) | 5-200 |
| Design Pressure (Mpa) | Atmospheric Pressure or under pressure |
| Material | Carbon steel, stainless steel, enamel, graphite |
| Heating Forms | Electrical heating with medium in jacket, external half coil steam heating, external half conduction oil heating, hot water infrared heating etc. |
| Cooling Forms | Refrigeration medium in the internal pipe jacket |
| Blending Power | Model selection is made according to material viscosity, liquid-solid ratio, liquid specific gravity, solid specific gravity, solid granularity, rotation speed, paddle type, with or without baffle or internal coil. |
| Stirring blade Forms | Anchor type, frame type, flat paddle type, pitched paddle type, ribbon type, turbo type, pusher type and multiple compound type |
| Seal | Mechanical seal or stuff packing seal |
| Inner Surface Treatment | Polished or no polished |
| Discharge Valve | Flanged ball valve, open downward discharge valve and others |
| Technological Pipe Hole | Manhole, sight glass, distillation mouth, imported materials, pressure gauge port, temperature, mouth, mouth filling N2, |

Resin plant is manufacturing in our factory: