For spray grade slurry and premix GRC / GFRC without compromise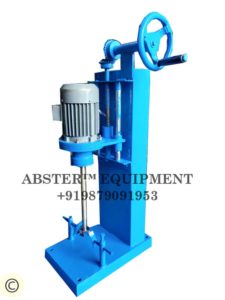 Premix GRC / GFRC is based on a high strength, low water/cement ratio mortar. The GRC Mixer for Spray & Premix prepares the mix at high speed. The Alkali Resistant Glass fibre reinforcement is then blended into the mortar at slow speed.
Revolutionary mixing blade
High shear mixing of the sand/cement slurry at fast speed
Blends the fibre at slow speed
60 litres capacity to easily accommodate up to 125kg of material
Works equally well with smaller mixes
Fully variable speed 0-1400 rpm
Dry materials loading chute with sealed lid to reduce dust
Comes with 2 removable plastic mixing vessels
Platform mounted version also available
Abster Equipment provides specially designed triple helical design high speed mixing unit for perfect dispersion of Glass Fiber Reinforced Concrete (GFRC). The mixer is equipped with high-end technology for efficient dispersion of the GRC. The mixer unit works in itself as a complete processing unit which can accommodate the formulation automatically basis on the input to the control panel while the dry material is hand fed from bags to the dry loading chute.
Our GRC mixers are configured to mix sand/cement slurry which is of spray-able grade with high shear mixing at higher speed and have capability to be slowed to enable glass fibers to be added to the mix and blended well in the shortest time possible
GRC/ GFRC Mixer range is highly efficient range of mixers for the application of premixing GRC and producing spray grade GRC/ GFRC slurry having following specification.
Mixing range from 120 kg to 500 kg of prepared material having 1:1 ratio of sand and cement and further blending of fiber is also incorporated.
Specially designed helical high shear mixing blades for creating a homogeneous blend of sand and cement and further to blend the fiber into the mixture to prepare the end product. The blade works perfect for producing spray grade GRC/ GFRC slurry.
Variable Frequency Drive (VFD) to have a variable rpm control for the mixture for high speed mixing of cement and sand and slow speed blending of fiber into the mix.
Lift-able sealed lid for the mixing drum to ensure a closed mixing system having dust free environment and neglecting loss of material from the mixture.
Solid loading chute for efficient and dust free dosing of powders with rubber bung.
Interchange-able mixing drums to have a versatility to use different drums for different colors with minimal cleaning required.
Mixing Drum Trolley have both options for Tilting drum type and Fixed drum type.
Mixer Blade Lifting can either be Electric, Pneumatic or Hydraulic.
Safety Indicator with a limit switch to ensure that the mixer operates only in down position when sealed.
IP-55 control system with VFD to vary the rpm, Lifting Up/Down for the mixing blade, Safety Sensor Indicator, Emergency Switch, etc.
Automatic Water Dispensing unit to have the desired/set volume of water into the mixture as an optional attachment to ensure a consistent mix without any manual intervention.