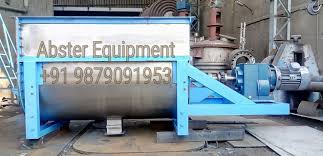 What is a Ribbon Blender and Mixer?
A Ribbon blender or a mixer is a high tech machine that comprises of a U- formed horizontal trough together with a single or double helical ribbon agitator that rotates within.
This agitator channel is positioned within the center of the container.
Ribbon blender is designed to meet efficient blending and mingling capabilities.
It is used to appropriately mix and blend dry solid and solid materials or powdered components to produce a fine and homogeneous mixture.
Ribbon mixer blends to the highest degree of accuracy and efficiency no matter the available quantities of the materials.
It is especially suitable for blending such solid materials as well as talcum powders, granules, pellets, spices, paste, and fluids.
Why do You Need a Ribbon Blender and Mixer?
Well, if you are into blending business, then definitely you need to acquire this machine as opposed to other machines.
Efficient and top quality ribbon blenders have securely controlled clearances between surfaces and agitator tips.
In addition to that, they are quick, effective and capable of systematic mixing of powders.
Below are special features of Ribbon blender and mixer that no other mixer boasts of.
I. Varying Applications and Very Few Crushes
Unlike other machines, the ribbon mixer has a double ribbon agitator that makes the machine multipurpose and suitable for mixing:
Paste and highly viscous material such as putty etc.
Technical Description of Ribbon Blender and Mixer
The radial speed of the ribbon is also flexible to ensure little or no material destructiveness.
Other than that, this blender doesn't easily break down, unlike others.
II. It Possesses a Triple Ace Mixing Capability
This triple action is the key to unlocking the high speed and efficient blending ability.
The double helical agitators of the machine rotate thereby tumbling on the material inside the blender.
As a result, the pitch of the exterior ribbon transfers the material towards the discharge door.
However, the interior ribbon which possesses an opposing pitch moves the material further from the discharge door.
III. Superior Loading Rate and Enhanced Sealing
The mixing cylinders are inclined at an angle ranging from 180˚ – 300˚ and it comes with the largest loading capacity of about 70%.
Apart from that, a variety of sealing methods are incorporated for you to choose from and select a suitable one for your product.
For superfine powder product, pneumatic together with packing seal is used while for materials with relatively good fluidity mechanical seals are used.
IV. Produces a Super Uniformity and Homogeneous Blend and Mixture
Unlike other blenders, the Ribbon mixer has got a double ribbon agitator.
They move in a counter current motion displacing the materials from one end through the center to the other opposite end of the mixer.
Thus resulting in the production of a homogeneous mixture.
V. It Avails Thorough, Gentle and Super Blends within a Very Short Time
The ribbons of the machine, rotate at a super fast speed approximately, 70 – 100 meters per minute
In the process, they move the material both radially and laterally within short cycle duration.
Usually, it takes just about 15 – 20 minutes for complete blending.
VI. Available in Different Working Capacities
These machines come in different sizes and capacities ranging from 5 litres to 25000 liters blenders.
Remember, the minimum working capacity for ribbon blender is approximately 30 – 40% of the overall capacity.
VII. Suitable for Use in a Limited Overhead Space