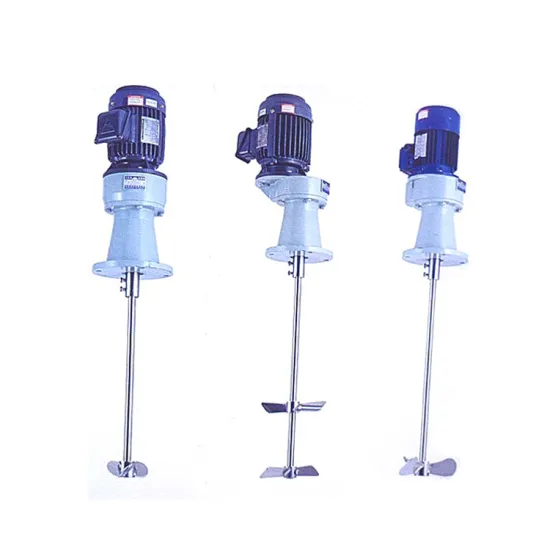 Product Details:
| | |
| --- | --- |
| Minimum Order Quantity | 01 Unit |
| Usage/Application | Water Treatment Plant |
| Model Name/Number | AGT – I,AGT – II,AGT – III |
| Design Type | Standard |
| Power Source | 0.37 kw TO 5.5 kw |
| Phase | 1 PHASE/ 3 PHASE |
| Size | CUSTOMISED |
| Brand | MINIMAX DOSING PUMPS |
| Voltage | 220 V / 380 V / 480V |
| Material | Agitator Shaft & Impeller PTFE Lined,AISI 316L,AISI 304,AISI 316,Alloy 20,Hast |
| Color | Steel true colors |
| Motor Power | UPTO 7.5 HP |
different type of Agitator
Chemical Agitator is a rotating mechanism which mixes chemicals without damaging the property of the chemicals.
We manufacture mixers/agitators under the brand name ABSTER and our expertise in the field of agitators/mixers technology irrespective of size is well accepted. They are also very competitive and it is their first reliable choice in agitators/mixers
ABSTER manufactures various types of vertical agitators and also portable agitators which consists of small efficient standardized industrial agitators mostly suitable for continuous / intermittent duty applications.
ABSTER  offers the right agitators for the right application. Hence we are one of the extremely successful Company in the field of agitator marketing.
An Agitator is powered by its impeller/propeller, which imparts force on the mixing liquid.
Significant research and design has been made in this technology, specifically in the agitator design, and power consumed.
We manufacture the best energy efficient design.
Industrial Mixer Agitator
Our range of products include mixer agitator, low speed fixed mixer, high speed stirrers, top entered agitator, twin blade agitator mixer and custom designed mixers.
We design and manufacture Mixing systems for various applications:
Blending/Heat Transfer
Suspension
Emulsification
High Viscosity Blending
Gas Dispersion
Advantages:
Reduction in Power Consumption without compromising the mixing requirement
Improvement in mixing performance like Heat Transfer and Mass Transfer
Transfer, Blending or Solid Suspension, Blend time
Small and compact systems
Easy Maintenance
The agitators offered by us are guaranteed for the stated Mixing performance. If the specified performance is not achieved the agitator will be modified or replaced at our cost.