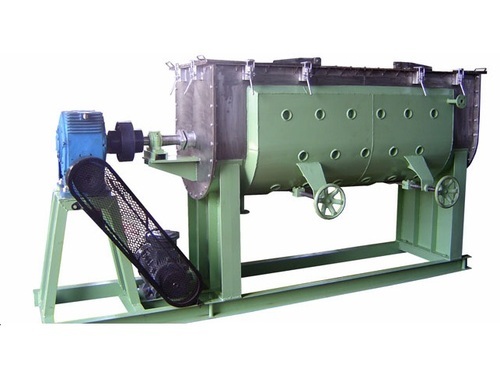 Description of Jacketed Ribbon Blender
Jacketed Ribbon Blender used from lab model to heavy model for batch or continuous flow form to achieve a homogeneous blend of a wide range of materials. It is a widely used style of blender and can be found in the pharmaceutical, food, animal feeds, confectionery, chemicals, fertilizer, plastics, cosmetics, pigments and insecticides industries. It is suitable for the distribution of liquids, fragrances and slightly pasty components in micro dosages onto carriers with triple mixing action. Each Jacketed Ribbon Blender unit consists of a horizontally-mounted, 'U'-shaped trough containing a double helix blender bar and a longitudinal shaft of twin-bladed construction. Material is introduced and mixed by means of an agitator. The resultant mixing is gentle but with good shear and imp action.
Usually mixers consist of U Trough, Solid Shaft, Rotor Design, Gear Box & Motor Torque selection.
Jacketed Ribbon blender Working Principal:
Ribbon Blenders Mixing of Phases can be accomplished and by which mass and heat transfer can be enhanced between phases mixing is a means whereby mixing of Phases
Application:
This Ribbon Blender can be used for, Powder to Powder, Powder to Granules, Powder to Liquid, Liquid to Liquid of Liquid to gas and Powder to Gas Ribbon blender Agitator Design is depending on Applications Agitator & Rotor Design Selection is decided by various factors Like Viscosity, nature of feed, Product Bulk density, Heat sensitivity of product nature of final output of product.
Ribbon blender use are various Industry and various applications:
Mixing of Chemical Dyes, Food & Pharmaceutical, Nutraceutical Powder
Cosmetic Industries, Agro Chemical Pesticide, Formulation Plant
Construction chemical, All Reaction Batch Like Guar Gum, TKP, SMCA, CMC, CMS
Technical Specification :-
Abster can offer Horizontal Ribbon Blender Jacketed 50 liter to 10000 Liter Volume capacity
Model
Working capacity
liters
Total
Capacity/ liters
OUTPUT
RPM
Total HP required
APPROX
RB – 200
200 ltrs
300 ltrs
40-65
2 to 3   HP
RB – 300
300 ltrs
400 ltrs
40-65
3 to 5  HP
RB – 500
500 ltrs
750 ltrs
30-45
5 to 7.5  HP
RB – 1000
1000 ltrs
1500 ltrs
30-40
7.5 to 10  HP
RB – 1500
1500 ltrs
2000 ltrs
30-45
10 to 20  HP
RB – 2000
2000 ltrs
2500 ltrs
30-45
15 to 30  HP
RB – 2500
2500 ltrs
3000 ltrs
30-45
20 to 30 HP
RB – 3000
3000 ltrs
3500 ltrs
25-30
20 to 30 HP
RB – 4000
4000 LTR
5000 LTR
25-30
20 to 30 hp
RB – 5000
5000 LTR
6000 LTR
25-30
30 TO 40 HP
RB – 10000
10000 LTR
12500 LTR
20-30
40 TO 50 HP
Supplier of different model type of blender and also manufacturing and supplying customize blender to client requirement.